IBM LinuxONE: Blockchain i Arkivet?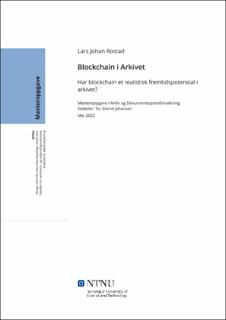 «The main research question for this thesis is: "Does blockchain have a realistic potential in future digital archives?". This problem is further divided into three sub-questions that are explored individually. Together, they draw a common conclusion for the primary problem. The three problems are "What challenges in the archive can be solved by
blockchain?", "Why hasn't blockchain had a breakthrough into the archival world?", and "What must happen for the technology to get this breakthrough?»
IBM® z16™ will bring the industry's first integrated on-chip AI accelerator, delivering latency-optimized inferencing designed to enable customers to analyze real-time transactions at scale [1] on critical applications. In an increasingly risky world full of cyber...
les mer
"Scientists at IBM say they've developed a method to manage the unreliability inherent in quantum processors, possibly providing a long-awaited breakthrough toward making quantum computers as practical as conventional ones — or even moreso." IBM Says It's Made a Big...
les mer
"IBM has built the largest quantum computer yet. Dubbed Osprey, it has 433 qubits, or quantum bits, which is more than triple the size of the company's previously record-breaking 127-qubit computer and more than eight times larger than Google's 53-qubit computer...
les mer